SW420R
ISO 13472-2: 2010 specifies a test method for measuring in situ the sound absorption coefficient of road surfaces with impedance tube. This method enables evaluation of sound absorption characteristics without damaging the surface. SW420R is designed according to ISO 134722, and the performance satisfies the requirement of ISO 13472.
The test results can be used to qualify the absorption characteristics of road surface for vehicle, tire testing and other traffic noise studies. However, the field of application is limited to low absorption surfaces, such as those in accordance with ISO 18044. The method is not reliable if the measured sound absorption coefficient exceeds 0.15.
The use of SW420R is the same as description in ISO 10534, VA-Lab IMP module can be used with SW420R.
Introduction:
● Specially designed for measurement of sound absorption properties of road surfaces
● Integrated design, portable and stable.
● Selected sealing material, reduce leak of sound signal.
● Recommended matching product
● Power amplifier: SWA100
● DA:MC3322
● Software:VA-Lab IMP
Performance:
● SW420R measured data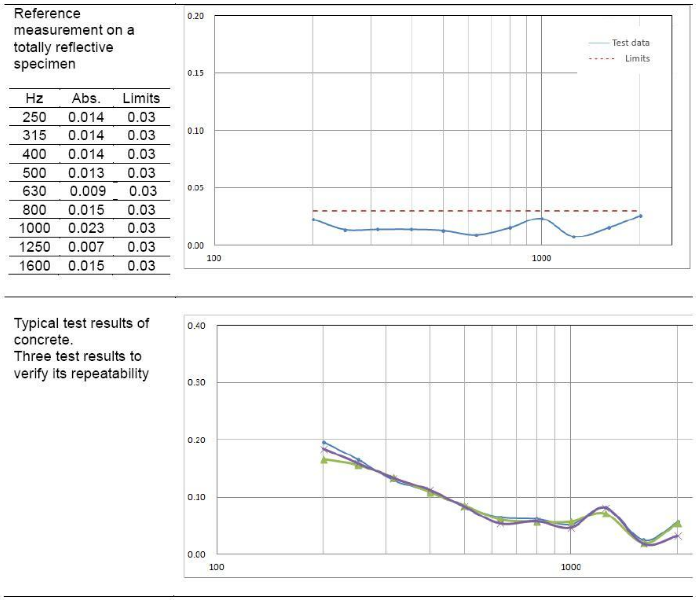 Typical configuration:
Details of hardware: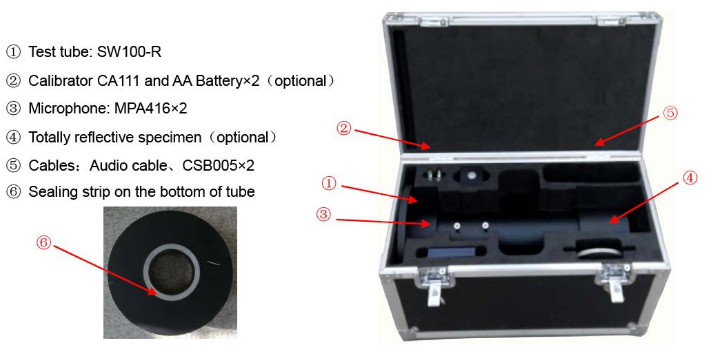 Technical Parameters:
| Specification | |
| --- | --- |
| Standards | ISO13472-2:2010、ISO10534-2:1998、GB/T 18696.2-2002 |
| Frequency Range | 250-1600Hz(1/3Octave) / 220-1800Hz |
| Inner diameter | 100mm |
| Length of tube | 680mm(including handle) |
| Microphones | 1/4" ICCP MPA416 |
| Microphone Spacing | 80mm |
| Height of microphone to ground | 150mm |
| Totally reflective specimen | Rounded steel plate of 10mm thickness,Diameter: 185mm |
| Weight | 14Kg |
| Package size | 74×36×41(H) cm |
Download information:

SW420/SW470/SW422/SW477/SW420R