The frequency range can be down to 3.15Hz with less than 1% THD+N. Thanks to the professional acoustic design, the cavity resonant frequency is increase to approx. 800Hz to keeps flat response at low frequency range. 3.15Hz~100Hz flatness is 0.3dB even without calibration, above 100Hz need calibration with standard microphone.
CA917
use high quality 4-inch aluminum-magnesium alloy diaphragm speaker with internal fix in order to lower the speaker vibration. Signal input connecter is BNC. Sound level meter or microphone can be easily fixed with the adjustable support. Adapter AD004 (1-inch to 1/2-inch) is include in the
CA917
and AD002-1/4 (1/2-inch to 1/4-inch) is option.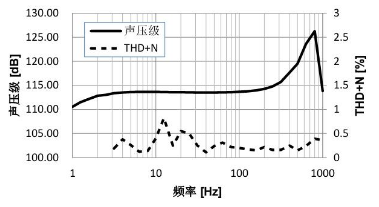 Technical Parameters:
| Specification | |
| --- | --- |
| Microphone | 1-inch, 1/2-inch and 1/4-inch microphone (AD002-1/4 is option) |
| Frequency Response | 3.15Hz ~ 500Hz |
| Sound level | >110dB |
| Speaker | 4-inch aluminum-magnesium alloy diaphragm |
| Rated Impendence | 8Ω |
| Rated Power | 15W |
| Max Input Voltage | 1Vrms |
| Size (mm) | W380 x H173 x D135 |
| Weight | 3.1kg |
Download information:

CA917