It has built-in low-distortion loudspeaker which can form a uniform and stable plane wave sound field inside with the use of BSWA TECH's power amplifier. It's suitable for microphone phase difference measurement, microphone array selection and so on.
CA414 includes sound source, microphone holder (with 4 microphone mounting holes) and a strong sound-absorbing end. It can compare phase of four 1/2-inch or 1/4-inch microphones at the same time.
CA414 is only a sound source and comparison coupler. Therefore, perform phase measurement need additional signal generator, power amplifier and acoustic measurement system.
Features:
● Phase test frequency range up to 6300Hz
● Supports up to 4 microphone calibration
● Suitable for standard 1/2-inch and 1/4-inch measurement microphone
● Modular design, microphone holder is removable and expandable
● The sound-absorbing end is made of BASF sound-absorbing foam
● Built-in 4-inch loudspeaker, 8Ω, 15W
Application:
● Microphone phase difference measurement
● Microphone array selection
● Sound intensity residual index measurement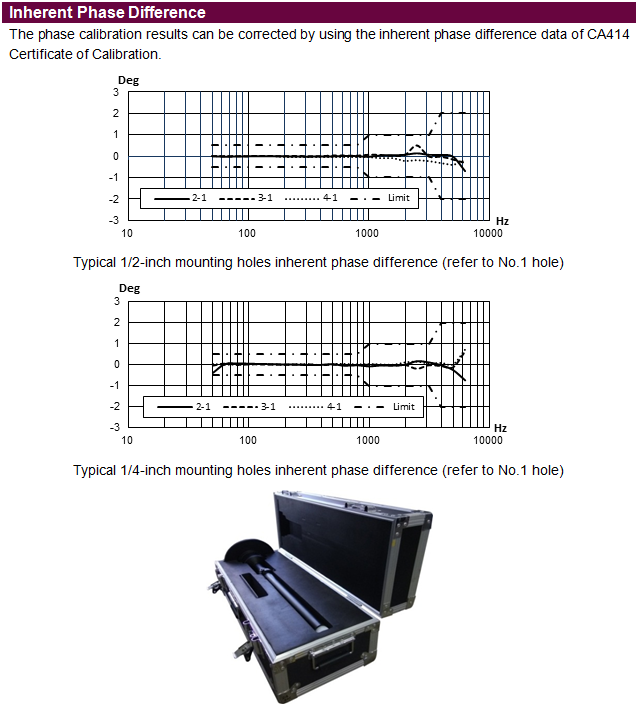 Technical Parameters :

| Specification | |
| --- | --- |
| Frequency Range | ±0.5° (50Hz~1000Hz); ±1.0° (1000Hz~4000Hz); ±2.0° (4000Hz~6300Hz) |
| Rated Power | 15W |
| Rated Impedance | 8Ω |
| Input Connector | BNC |
| Calibrator Size (mm) | W240 x H666 x D240 |
| Package Size (mm) | W784 x H306 x D286 |
| Weight | 3.5kg (without package), 13.9kg (with package) |
| Applicable Microphone | 1/2-inch and 1/4-inch measurement microphone |
| Internal Sound Pressure Level Limit | 1/4-inch microphone: 90dB~102dB; 1/2-inch microphone: 100dB~115dB |
Download information:

BSWA-III-C021-05-P0320_Brief