OM241/OM261 Semi-permanent Outdoor Microphone Class 1
OM241/OM261 semi-permanent outdoor microphone is developed by BSWA Tech for outdoor noise monitor. Semi-permanent outdoor microphone has no built-in calibration device and therefore requires periodic calibration using a sound calibrator for short-term noise measurement.
The frequency response of OM241 is optimized for 0° incidence, primarily for aircraft and airport noise measurement. The OM261 is optimized for 90° incidence, primarily for urban, traffic and industrial noise measurement. Both of two types of microphones have been specially designed to achieve the free-field frequency response in specified direction of incidence within the limits of IEC 61672-1. Each microphone is supplied with an individual calibration certificate that contains the actual sensitivity and free-field frequency response data for the complete set of outdoor microphones. Users can use the calibration data to correct the measurement data for more accurate results.
OM241/OM261 meets the IP54 ingress protection rating. The 90mm windscreen, internal rain hood and dust mesh can fully protect microphone to against wind, rain, snow, dust and other severe weathers. The bird spike prevents impact of perching birds to the measurement.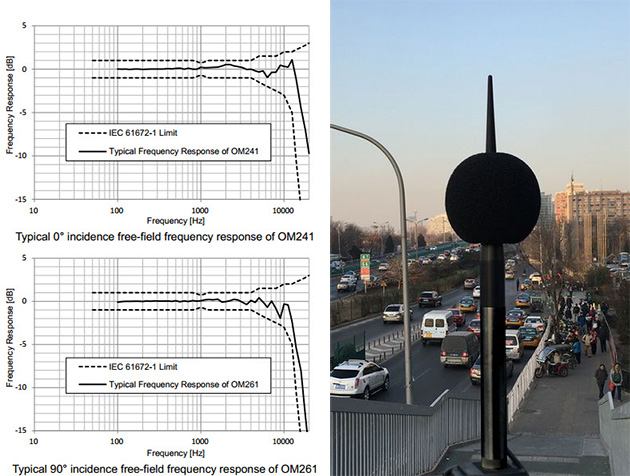 Technical Parameters
Specification
Type

OM241 | OM261

Application

Aircraft and airport noise | Urban, traffic and industrial noise

Incidence

0° | 90°

Standard

GB/T 3785.1-2010 1级, IEC 61672-1:2013 Class 1, ANSI S1.4-1983 Type 1

Built-in Microphone

1/2" prepolarized measurement microphone

Sound Field

Free-field

Open-circuit Sensitivity

50mV/Pa

Frequency Response

10Hz~20kHz (According to IEC 61672-1)

Dynamic Range

17dBA~134dBA(50mV/Pa)

Peak SPL

137dBA peak

Maximum Output Voltage

5Vrms

Inherent Noise

17dBA

Output Impedance

<30ohm

Power Supply

ICCP power supply (2mA~20mA, 4mA Typ.)

Conditions

Temperature: -30℃~80℃, Humidity: 0%~95%RH

Connector

BNC

Mounting Thread

1/4" thread

Enclosure

IP54 (Microphone vertical placement only)

Size(mm)

∅

90x222 (without extension rod),

∅

90x372 (with extension rod)

Weight

89g (without extension rod), 203g (with extension rod)
Download information:

BSWA-III-C021-05-P0300_OM241_OM261_Brief_202302