It is prepolarized microphone without external polarization voltage, and suitable for ICCP powered MA401 preamplifier (optional TEDS). The microphone is side-vent which equalizing pressure by a vent opening inside the protection grid. It can be used for noise measurement inside the cavity where the static pressure is easily changed. However, the side vented also causes the frequency response of the microphone to change. The frequency response is 8 Hz ~20 kHz, and it can be extended to 40 kHz by increase the tolerance of frequency response.
MP471S / MP472S / MP473S uses a high-strength nickel metal diaphragm, which increases the maximum sound pressure level of the microphone by increasing the diaphragm tension, and reduces the sensitivity to about 0.5 mV/Pa. It also avoids the ICCP preamplifier to limit the maximum output voltage of the microphone, and can measure up to 180dB sound pressure level. Each microphone passed a high sound pressure test before leaving the factory to verify its total distortion ≤ 3% when the rated maximum sound pressure level is reached.
MP471S / MP472S / MP473S can choose a preamplifier with TEDS to support data acquisition equipment to read microphone information directly, including microphone model, serial number, sensitivity, etc. BSWA microphone supports the IEEE 1451.4 standard. The v0.9 version is used by default to be compatible with more data acquisition equipment. The v1.0 version can also be selected according to user´s requirements.
Each microphone is supplied with an individual calibration data chart including sensitivity, frequency response and so on.
Features:
       ● 1/4-inch pressure-field microphone
       ● Sensitivity (@250 Hz): 0.5 mV/Pa (-66 dB re 1V/Pa)
       ● Frequency response:   8 Hz ~ 20 kHz (±2 dB)
                                        6 Hz ~ 40 kHz (-3 dB / +7 dB)
       ● Dynamic range: 56 dBA ~ 170 dB (MP471S)
  61 dBA ~ 175 dB (MP472S)
  65 dBA ~ 180 dB (MP473S)
       ● Polarization voltage: 0V (prepolarized)
       ● Pressure equalization: side-vented
       ● Suitable for 1/4-inch preamplifier with ICCP power supply
       ● Optional TEDS (IEEE.1451.4)
Applications:
       ● High sound pressure measurements such as artillery and automatic weapon, aero-engine and rocket engine noise.
       ● High frequency noise measurements.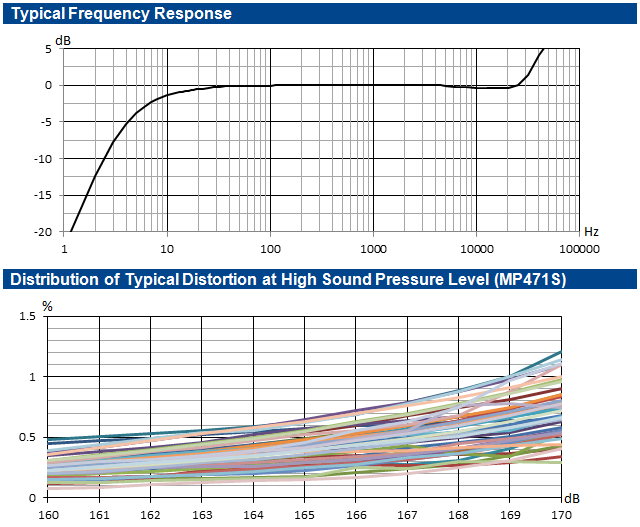 Specifications
Sound Field

Pressure-field

Diameter

1/4"

Class (IEC 61672)

Class 1

Open-circuit Sensitivity@250 Hz (mV/Pa) (±5 dB)1

0.5 (-66 dB re 1V/Pa)

Polarization Voltage

0 V (Prepolarized)

Frequency Response (Hz)

8 ~20k (±2 dB), 6 ~ 40k (-3 dB / +7 dB)

Dynamic Range (dBA ~ dB)1

56 dBA ~ 170 dB (MP471S)

61 dBA ~ 175 dB (MP472S)

65 dBA ~ 180 dB (MP473S)

Cartridge Thermal Noise (dBA)

56 (MP471S), 61 (MP472S), 65 (MP473S)

Maximum Sound Pressure Level (dB)

(3% distortion)2

≥ 170 (MP471S), ≥ 175(MP472S), ≥ 180 (MP473S)

Capacitance (pF)

6

Equivalent Air Volume@250 Hz (mm3)

0.3

Pressure Equalization Vent

Side-vented

Operating Temperature Range (°C)

-30 ~ 80

Operating Humidity Range (%RH)

0 ~ 98

Temperature Coefficient (250Hz) (dB/°C)

-0.02

Pressure Coefficient (250Hz) (dB/kPa)

-0.007

Influence of Humidity (dB)

<0.1

Dimensions (mm)

with Grid

Ø7 × 10.2

without Grid

Ø6.35 × 9.4

Mounting Thread for Preamplifier

5.7 mm-60UNS

Weight (g)

1.7

Suitable Preamplifier

MA401

TEDS

Optional, IEEE 1451.4 compliant (default v0.9, optional v1.0)

Note 1: the open-circuit sensitivity limit is applicable to most MP47xS microphones, but the sensitivity of high sound pressure MP473S may be lower than this limit.

Note 2: only valid in the specified frequency range. The dynamic range and the maximum sound pressure level will decrease around the resonance frequency of microphone.
Download information:

BSWA-III-C021-05-P0343_Brief_202111